The Group Effect
Finally! The best of Group Fitness all in one place, with a Kids Room and NO contracts in Saratoga Springs!
We are committed to creating an atmosphere that welcomes everyone. No matter where you are on your fitness journey, DEVOTED is the place you can feel welcome and celebrated AND get results. Our classes are proven to deliver leaner, stronger, more flexible bodies that will give you the freedom to live the life you have always wanted through a fabulous variety of workouts, intensity levels and music to deliver these proven results.
What Our Members Say...
DEVOTED GROUP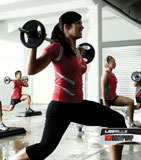 Group fitness delivers the Group Effect: It's all about Motivation, Inspiration and Results. On your own, it's easier to stop when the going gets hard.
DEVOTED ELITE
Get the up close and personal attention of Personal Training with all the energy and benefits of the Group Effect. In sessions that max out at 10 team members you're about to see what you are really capable of.
DEVOTED TRAINING
We recognize that a little extra one-on-one attention goes a long way, and we're passionate about offering assisted exercise training that is personal to you.